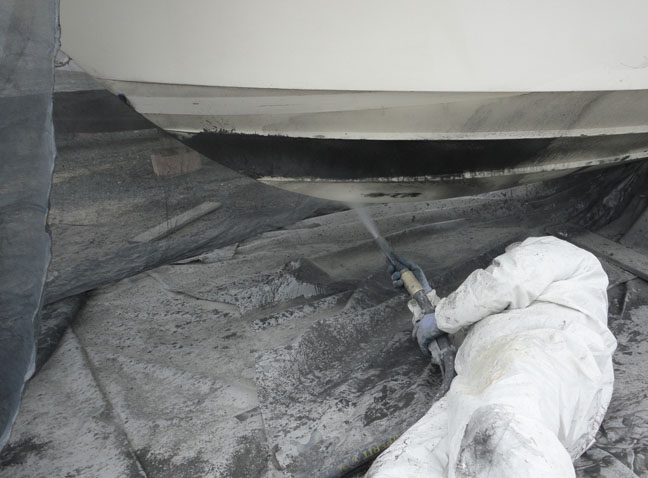 What blasting material is used?
The soda blasting material consists of formulated sodium bicarbonate (also known as baking soda) having a crystalline structure that has a naked eye appearance of course granular sugar as opposed to the conventional powdery baking soda. Blasting soda is an extremely friable material that has micro fragmentation on impact, literally exploding away surface materials without damage to the substrate.
SodaClean "Maintenance Plus" is specially formulated and processed Sodium Bicarbonate (baking soda) approved for use by FDA, USDA, CODEX, USP, and EPA. SodaClean is non-abrasive, dissolves in water, and is formulated to be pure and free flowing. SodaClean is packaged in easy to handle 50 lb bags.
What can we help you with?
Automotive Paint Removal
Aircraft paint Removal
Heavy Equipment Paint Removal
Soot & Smoke Removal
Damage/Insurance Restoration
Graffiti Removal
Industrial Cleaning
Marine Bottom Paint Removal
Food Equipment Cleaning
Parking lot stripe removal
Mold remediation
Clean wood and masonry
Grease and oil removal
Degrease and strip engine
components
Aluminum and stainless steel
cleaning
Removing oil stains from streets,
driveways and garage floors
Removing white efflorescent stains
from stone and brick masonry
And much more!
SodaBlasting & Rust
When SodaBlasting is used as the surface preparation method in removing old paint and rust in preparation of a protective coating, other phenomenon occur that are unique to the process. SodaBlasting will remove electrolytes, such as acids and chlorides, which is referred to as a passivity process to the metal. The result is that the metal will not have activated anode and cathode steel molecules which can be observed by the absence of rust over bare metal after extended periods. Sandblasted and mechanically cleaned surfaces will rust in as little as a matter of hours. you can find out more about us here.
Benefits of SodaBlasting
SODA BLASTING:
is the easiest and safest method of removing paint.
cuts costs and time to 1/3 from other conventional methods of paint stripping.
will NOT scratch or etch metal, but will remove ALL the paint.
will return the original condition of the factory metal.
will NOT scratch chrome or warp panels. SodaBlasting is safe and there is No need to mask glass or rubber.
can strip wheels, panels or the entire car.
removes blisters and multiple layers of paint without damaging the gelcoat.
can remove the layers of antifouling without damaging the gelcoat.
will not damage the brick, stucco, just about any building substrate.
is the easiest and safest method of removing mold and fire damage, including the odor.
means 1 man can do in 3-4 hours what used to take 3-4 men 3-4 days to do.
strips the paint, cleans and cuts grease in one step, saving you time and money.
cleans as it strips paint and grease.
can eliminate graffiti at approximately 19 sq. ft. per minute.